Hi

Here is a new website I just made for raider.
Hallo
Hier ist eine neue Website, die ich für raider gemacht habe.
Then, what is this site ? Was ist diese Seite
It's a website that allows raider to see the profits they make each day/weeks/month or whatever period you want with raid summaries and charts :
Here are a raid summary of the day and the week :
Es ist eine Website, die Raidern erlaubt die Gewinne, die sie jeden Tag / Woche / Monat oder jeder anderen beliebigen Periode machen, als Zusammenfassung und in Diagrammen zu zeigen :
Hier ist eine Raid Zusammenfassung des Tages und der Woche
And here are the kind of charts you can find :
HIer sind die verschiedenen möglichen Arten von Diagrammen.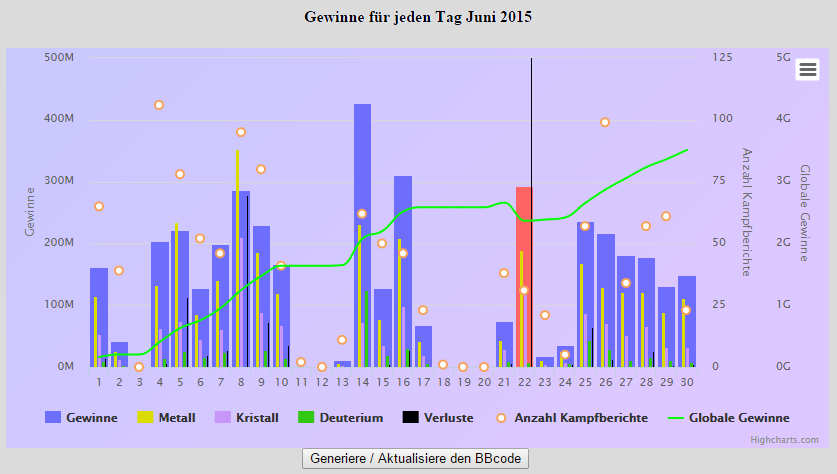 But with this site also allows player to compare to each other by participating to the "Top Raider of the week" that rank the 20 best raiders of the week. (those who make the best profits)
The best alliance and the best universes are also ranked
(the participation to these TOP is optional)
Here is the top raider of the current week : (you can also sort the results by country, by universes or by fleet speed )
Außerdem ist es möglich sich mit anderen TopRaider Nutzern innerhalb der aktuellen Woche zu messen. (Die Ergebnisse können auch nach Land, Universum oder Flotte sortiert werden.
You can also see a records pages with the global records, and your records
Weiterhin gibt es auch eine Rekorde-Seite mit Globalen und eigenen Rekorden.
How it works ?/Wie funkionierts?
To use it, you only need to install this script :
topraider.eu/topraider.user.js
(
Deutsche
F.A.Q :
topraider.eu/index.php?page=faq&langue=de
)
Then, open a combat report
Open a combat report. An email and a password will be asked to create you account on this website.
Once the email and password filled, you just have to open your combat reports to automatically send them to the website.
Then you will only have to login to topraideur.eu to access to your statistics

Das How it works findet ihr Übersetzt auf der verlinkten FAQ Seite.
Further information:
* The site considers you harvested all the debris fields by default. But you can change it in your CR list (profits pages)
* When you ACS attack or defend, the losses and earnings are equally spread between the participants
* The top of the week end/start between Monday and Sunday, and is updated each hour
* If you want to translate it in another languages, it's easy to do. Please contact me

Weiterführende Informationen:

* Die Seite setzt in der Standardeinstellung voraus, dass ihr das komplette TF abgebaut habt. Das könnt ihr aber manuell in eurer Gewinne Seite ändern.
* Wenn ihr einen AKS fliegt, werden die Gewinne/Verlsute gleichmäßig unter den Teilnehmern verteilt
* Die Tops der Woche werden zwischen Montag und Sonntag gewertet und jede Stunde aktualisiert
* Wenn ihr bei einer Übersetzung helfen wollt, kontaktiert mich. Es ist wirklich einfach.
If you have questions, problems or suggestion. Say it

Edit by McSnoopy : deutsche Übersetzung folgt !
..:: Edit by TheViking | 22.7.2015 20:16:36 | Deutschen Screenshot eingefügt, Übersetzung vervollständigt, Deutschen FAQ Link eingefügt. ::..
The post was edited 4 times, last by TheViking ().